If you're working on building your online presence and slowly (or quickly) realizing that you haven't made progress other than creating a huge to-do list, don't stress.
With the Marketing Yourself 101 Custom Action Plan — you can leapfrog your way to having everything you need.
You don't have to go through all of the tough tasks on your to-do list. I'll do them for you.
You can accelerate your plans and produce a professional online appearance that will bring you more clients, readers, and paid opportunities in less time with less confusion and complications.
The Marketing Yourself 101 Custom Action Plan includes a digital presence strategy created just for you.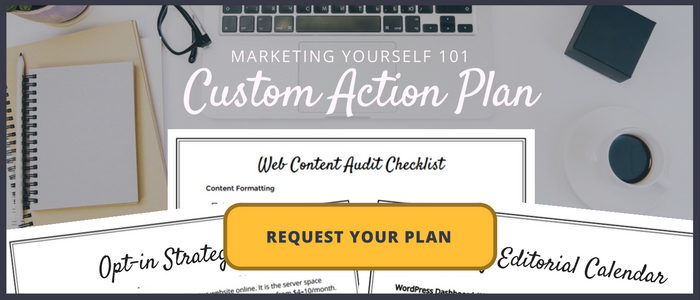 The package includes three custom plans and a strategy session to review the plan and make sure you are in the right place to move forward.
---
#1) Website Content Audit
I'll take a look at your current website, perform an audit of over 25 points, and give you a list of what you need to improve in order to give off a professional appearance that attracts clients, readers, and even search engines.
---
#2) Opt-in Strategy Plan
After I review your website and get to know your business, I'll come up with a custom opt-in strategy for you. It will include three ideas for opt-in offers that will attract your target audience and drive users to your list.
---
#3) Starter Editorial Calendar
While I'm creating ideas for your opt-in offer, I'll also come up with ten ideas for blog posts that will lead into your opt-in and show off your talent and services. I'll lay out the ideas in a spreadsheet, so you know what to track and how to fill in your editorial calendar in the future.
---
#4) 30-Minute One-on-One Strategy Session
Once I send you the three-piece plan, we'll have a 30-minute one-on-one session so we can talk together about any questions, concerns, or confusion that is holding you back. I'll give you the advice and encouragement you need to get your pro presence launched.
---
I'm offering five of these one-on-one custom plans each month. So if you're ready to upgrade your web presence and get more job offers, snag your spot today.
---
Custom Action Plan Bonuses
The Marketing Yourself 101 Custom Action Plan also comes with bonus offerings to help you accelerate the launch and growth of your business.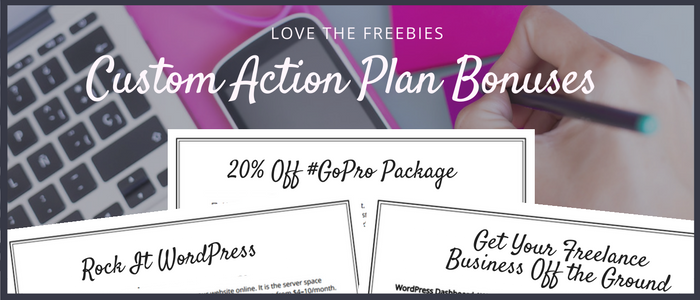 Bonus #1
Free Access to My "Rock It WordPress Course" — Rock It WordPress explains step-by-step how to update, manage, and grow your WordPress website. It's the perfect resource for the DIY website owner who wants to take control of their online presence and learn how to manage their site on their own.
---
Bonus #2
"How to Get Your Freelance Business Off the Ground" Email Course — You'll also be included in my next run of the email training How to Get Your Freelance Business Off the Ground. The series includes tips and strategies for taking your hobby to serious businesses in 15 steps.
---
Bonus #3
20% Off My "Professional Online Presence Starter Package" — If you're looking to upgrade and improve your digital presence but don't want to do it yourself, you can get 20% off my Professional Online Presence Starter Package. This includes a website design or upgrade so you can have the pro digital presence you deserve.
---
Pricing & Details
You can get your custom plan, one-on-one strategy session, and bonuses all for the price of $179.
Keep in mind, this isn't another online course or group program. This isn't another list of general tips or steps.
You're getting a CUSTOM plan made specifically for you.
So if you are serious about your business, this is a reasonable investment in YOU. You have the skills, now let's create a plan to show them off. 
---
Why Work With Me?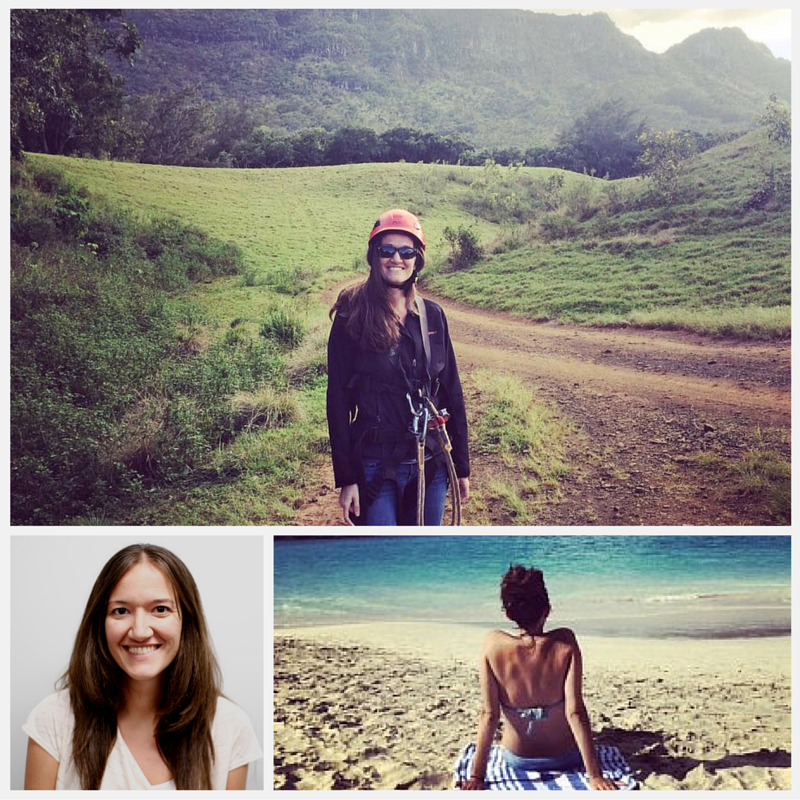 In case you don't know me, let me reintroduce myself.
I'm Raubi Perilli, writer, marketer, and founder of Simply Stated Media. After hiring, managing, and training freelancers as a community manager for an online content development company, I decided to branch out on my own. I wanted to live the freelance life and help other do it too.
So I put together my writing, freelance, and marketing skills to create a business that could help other aspiring writers and freelancers build their own businesses.
You may have seen me around the web sharing advice on these topics for Entrepreneur, GoDaddy, CopyBlogger, Social Media Today, The Freelancer Union, and other marketing blogs.
And, now I'm here to work one-on-one with you!
You can't be a professional without looking like one online. So, let's work together to give you a pro appearance that will support your pro business.
Don't take my word for it.
Check out what people who have worked with me have to say.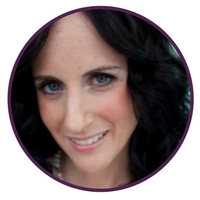 I've gotten so many more opt-ins since Raubi designed my site. Raubi was fantastic to work with. She helped me update my website and the process was as smooth and pain-free as possible. Raubi was great at listening and then delivering exactly what I wanted. She delivered ahead of schedule which is always appreciated. — Erica Mesirov, Owner Erica Mesirov Food Coach
---
Raubi is an amazing coach. She is a fountain of knowledge, and she knows what works. Her suggestions have motivated and encouraged me, and I now see a bright future ahead for my writing business. — Cynthia Dixon, Freelance Writer
---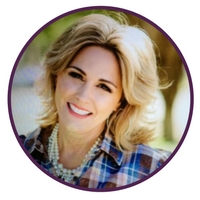 Raubi has been a tremendous resource for me as I set out to establish an online business. Initially, I struggled with the many decisions related to building a website, then I met Raubi, and she made the process EASY! From the design to the launch – Raubi has been outstanding, and I'm so glad I made the decision to work with her! — Amy Serafini, Educational Leadership by Dr. Amy

---
I am always looking for information that will improve my new freelance copywriting business. With Raubi's program I learned organizational tips that I can apply immediately along with many resources that will help me reach my goals. — Jennifer Vandberg, Freelance Writer
---
Raubi is articulate and well organized using immaculate systems that she structures in a user friendly manner, for all to participate in bringing her message across, while assuring she provides you with exactly what you asked for and more. Raubi is an absolute pleasure to work with, and to see her creations with your ideas come to life, is an absolute pleasure to watch. — Yvonne Cloete, Founder of Y Dream
You can see some other things that people said too or click the button below to be the next in line to work with me.
---
Have other questions about the plan?