Setting up a clean responsive website is the first step in growing a small business' online visibility. The next step is optimizing your site for local search.
Think about it as though you are planning a party.
Setting up responsive design is like rearranging the furniture so that your guests will be comfortable when they get to your house.
Optimizing your site for search is like sending out invitations to your guests.
You have likely heard the term search engine optimization or SEO. This is the term that most frequently follows the questions "how do I show up on Google?"
SEO, like many things on the internet, has changed over the years. Search engine optimization used to be a complicated science that involved fighting your way to the top of Google. But Google isn't interested in making you work to get to the top. They are interested in giving people what they are trying to find.
So to get to the top of search results, you only need to make sure Google knows why you deserve to be there.
That means making sure you site is appropriately optimized for local and mobile search. There are many things you can do to better position yourself in local and mobile search, but for now, let's just look at why local and mobile search are so important to small, brick-and-mortar businesses.
What Is Local Search?
Local search refers to queries and results that relate to the geographic region of the searcher.
An example of a local search would be "Tampa burger restaurants." The intent of the search is to find something local so the region is listed in the search query.
But Google doesn't always rely on the search term to determine if the query is intending to find local results.
Google  frequently delivers local search results even when not indicated in query.
This example shows a Google results page after searching for "burger restaurant."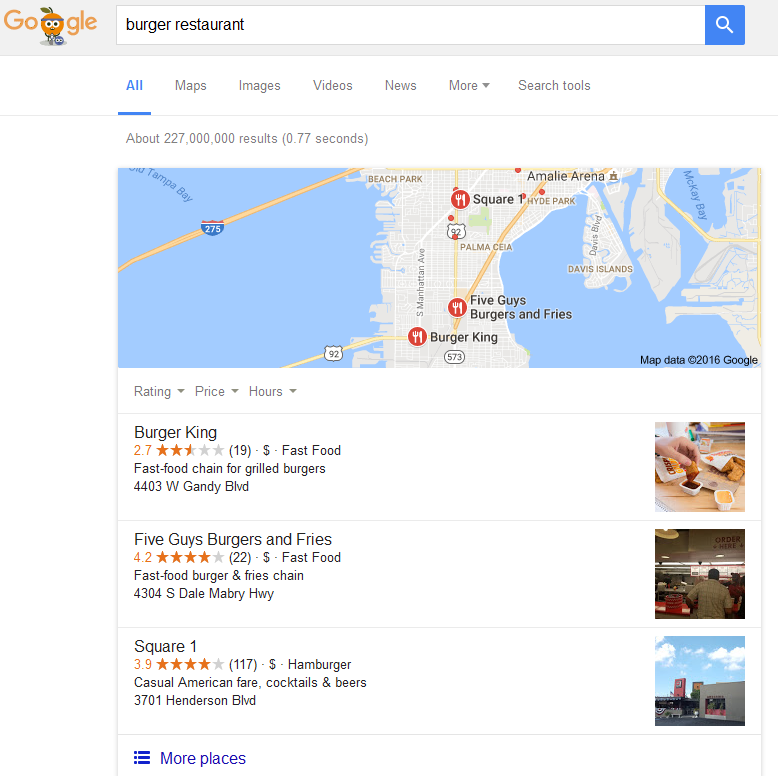 Google assumes that the searcher is interested in search results that related directly to their area and delivers a section of local search results.
So if you are a brick-and-mortar businesses hoping to have local customers in your area find you, Google is on your side.
They are aiming these searches right for you. This is even more true for mobile search.
How Are Local Search and Mobile Search Related?
Search engines know what type of device searchers are using to find information, and they use those signals when deciding what information to provide.
They have found that when people use a mobile device to search for information, they likely are searching for local information. So mobile search often produces more local results.
The growing emphasis on local search and mobile search creates a huge opportunity for local businesses. 
Consider the example above. If you are a hamburger restaurant in Tampa, your primary target audience is the hungry people in the area around you. They are searching for hamburger restaurants and Google wants to help them find you.
But you won't appear in the top of search results unless your site is optimized to tell Google that you belong in this category.
4 billions searches per month in the United States have local intent (Moz)
4 in 5 consumers use search to find local information (Google)
when searchers seek local information, 70% connect with the business (Televox)
Is your business going to be there when searchers come looking for you?