Learn how to track and manage content marketing KPIs with these spreadsheets that lay out goals and the path to tracking them.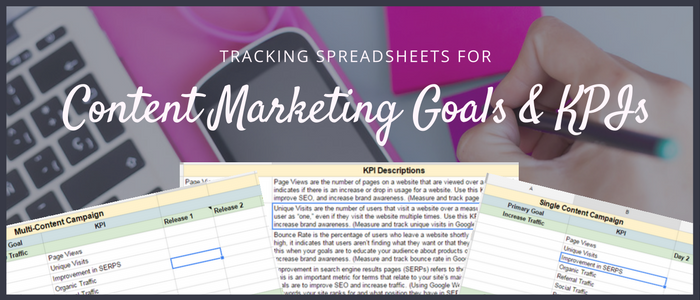 Set and Track Your Content Goals
Enter your email to get this bundle of spreadsheets.
Content Marketing KPI Definitions
Sheets include the definitions of major Content Marketing KPIs and information about where to find relevant metrics for:
Page Views
Unique Visits
Bounce Rate
Improvement in SERPs
Organic Traffic
Referral Traffic
Social Traffic
Press Mentions
Inbound Links
Social Shares
Number of Followers
Conversion Rate
Email Subscribers
Number of Leads
Number of New Customers and Sales
Time Frames for Tracking
Sheets also include sample time frames for tracking long-term, multiple content, and single-content campaigns.