Today, I'm taking a break from marketing writing and sharing a different type of story to offer a little look at what my life has been like during the COVID-19 lockdown.
—
Going to restaurants and trying new foods is by far, one of my favorite things to do.
Ordering three or four different dishes with a glass (or multiple glasses) of wine or beer and sharing it around the table with people I love — it's simply the best.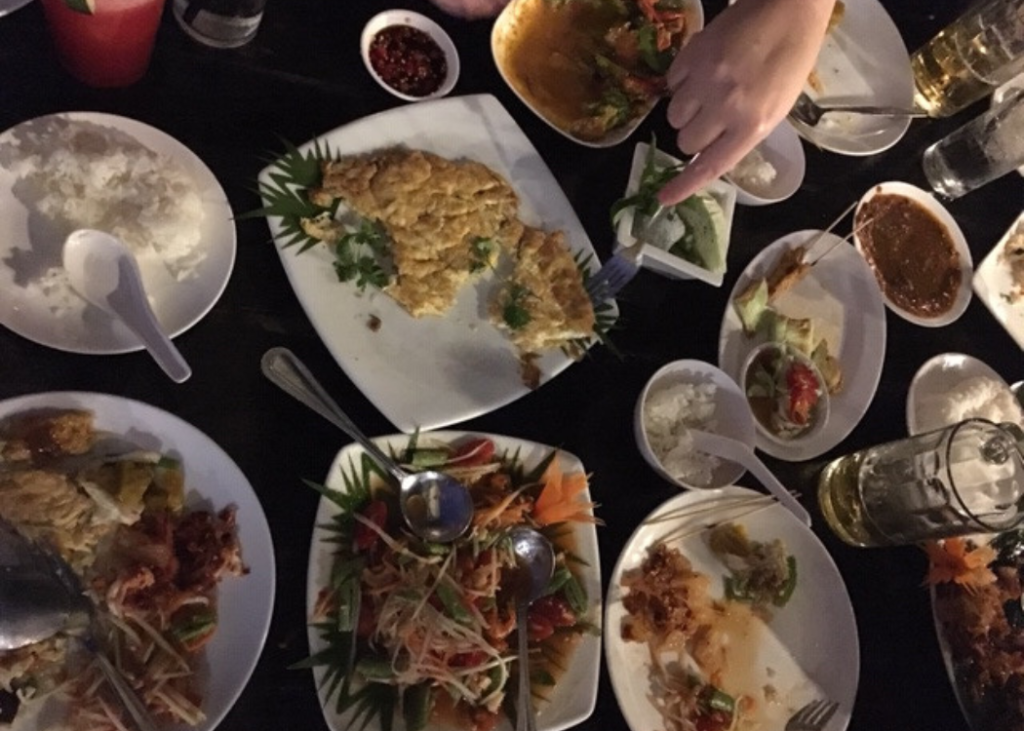 But, when COVID-19 hit, I quickly realized this wasn't something I could do anymore. I knew I'd have to try and find a way to recreate this activity from home.
So I started the #FeedMeInQuarantine sessions.
I found recipes I would never have considered cooking and started whipping up dishes I would usually only order in a restaurant. And the truth is — they actually came out pretty damn good.
I've heard people talk about the power of cooking and food, how they can help you find joy and hope in a difficult time. But I never really understood it until now.
This experience made me realize how satisfying it is to spend a night in the kitchen, throwing together ingredients, having a few drinks, and then savoring in the flavors of your hard work.
Cooking and eating were my uplifting activities during quarantine.
But, I also realized that many other people weren't able to have the same experience.
All around the country, millions of people are struggling with lost income and wages due to COVID-19 disruption. This has caused a huge spike in need at food banks.
Feeding Tampa Bay reported a 400% increase in need since the pandemic hit. 
There are millions of people who can't experience the same joy I was having in the kitchen. In many places around the country, people have lined up for blocks waiting to get essential food items.
So for every meal I shared on social media during my #FeedMeInQuarantine series, I donated to a food bank. I eat, cook, and share so someone else can hopefully do the same.
It's amazing how far even $10 can go.
A $10 donation can provide enough food to feed five people. 
I've been making small donations and asking other people to do the same. If you feel like giving back before you make some of the recipes I'm about to share, here are some great organizations worth exploring.
Now, back to the food.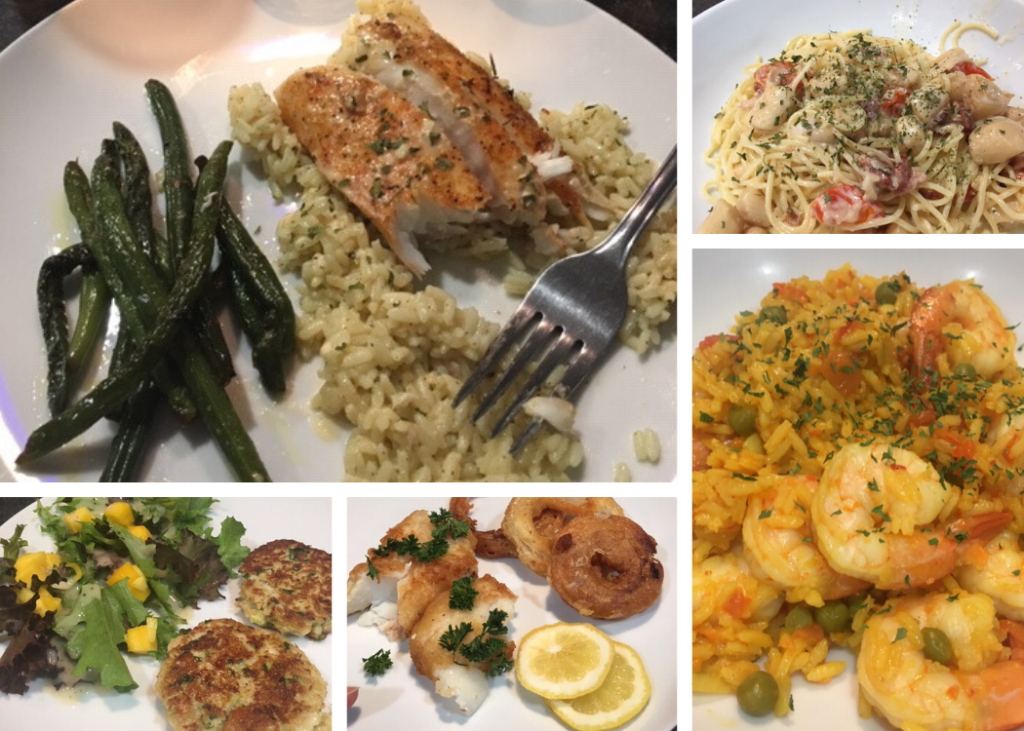 I've made some truly great meals during #FeedMeInQuarantine, and I've had a lot of people ask me for the recipes.
I wanted to compile the list somewhere in a place that I could share and go back to.
So here it is. The best dishes from my #FeedMeInQuarantine food sessions.
Thai Basil Chicken: This was my favorite meal to eat in Thailand, and I really didn't think I could re-create it at home. But all I needed was a little oyster and fish sauce, and I had my kitchen smelling just like a Thai open-air market. I'd rank this as my #2 dish on the list.
Grilled Red Snapper with Cajun Cream Sauce: This is my favorite thing from quarantine. I followed the recipe but used Creole seasoning instead of Cajun. I also made a side of green beans and Zatarian's Cilantro Lime rice. I would have happily paid about $25 to eat this meal at a restaurant.
Beer-battered Cod and Onion Rings: I never thought I'd be attempting fried fish, but I bought a bulk seafood package (yes, it got to the point where I was buying seafood in bulk) that came with four pieces of cod so I tried it. It actually turned out surprisingly well. The onion rings had way too much batter, but the fish was great.
Spanish Shrimp and Rice: I changed it up a little on this recipe. Rather than trying to cook rice with the dish, I made the recipe (left out the rice) and made a Vigo Yellow Rice on the side and mixed it all together.
Maryland Crab Cakes: I was a little bummed with my first batch of these. But then I realized I used way too much oil and forgot the lemon. With those adjustments, these crab cakes were restaurant-quality. I liked them best on a bun.
Zucchini Cakes: Here's a tip for these yummy snacks. Make them ahead of time and put them in the fridge, then pull them out and fry them up when you're ready to eat. We ate them with a little side of sour cream.
Grilled Red Snapper Tacos: The red snapper was great. We added a little corn and hot sauces to the tacos too.
Shrimp Tomato Spinach Pasta in Garlic Butter Sauce: Basic but yummy. We added mushrooms because why not?
Creamy Garlic Scallop Spaghetti with Bacon: Ooooh this. This was delicious. Creamy, rich, and super easy to prepare. I had bay scallops to cook and I was very concerned about messing them up, but this came out awesome. I'll make it again with chicken since I don't buy scallops very often.
This list doesn't include everything I made during #FeedMeInQuarantine.
Look at me here making homemade pasta.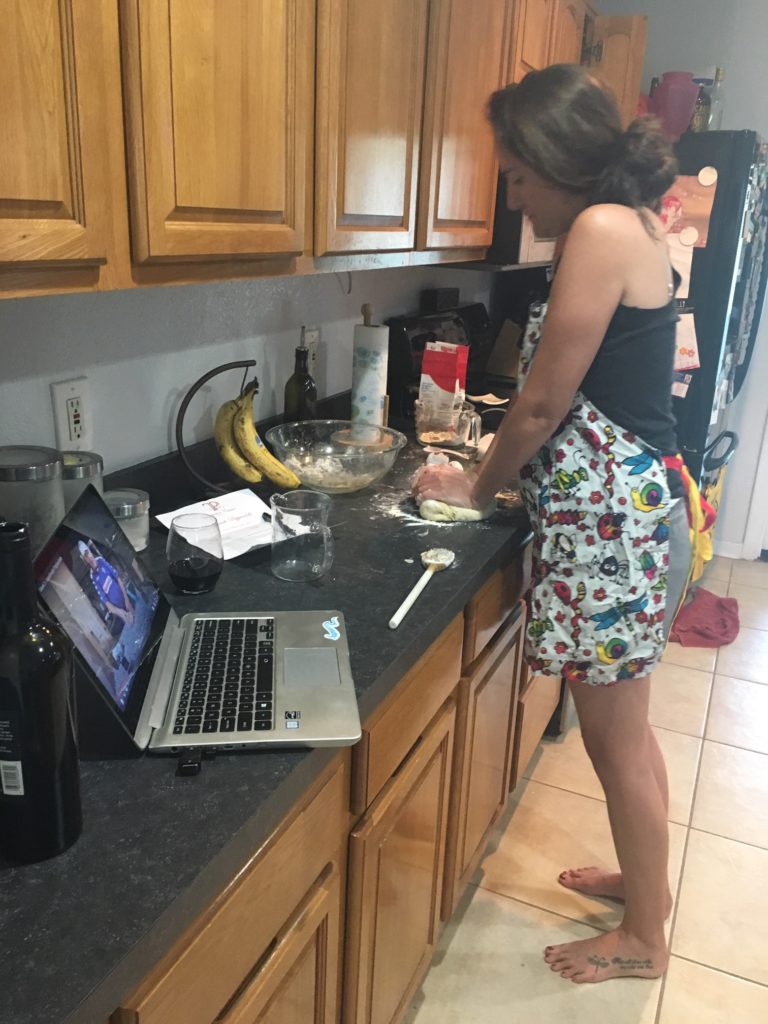 But it does include the recipes I found online and could easily share.
I hope you enjoy them all as much as I did. If you make any of these dishes, let me know how they turn out. I'd love to hear how you own cooking sessions are going.
And, if you are at home finding the joy and comfort of cooking and eating, consider donating to one of the organizations listed above to share the love (and food).
Salute!