There was a time when Chelsea Rhea was okay with the idea of being a starving artist.
She was unsure about so many things — what to do with her life, what career to pursue, where she wanted to live — but one constant remained.
Art.
Art was the one thing that felt right throughout Chelsea's entire life. Whether it came through as coloring as a kid or oil painting and writing as an adult, Chelsea could never quiet her creative thirst. And, she never tried.
Chelsea trusted it and believed that if she followed the art that ignited her, it would lead her in the right direction even if it meant overcoming hurdles in the process.
She trusted her passion, her work, and herself — and it paid off.
By following what felt right, Chelsea created a career she never knew she wanted. Now, she travels around the country doing art she loves, gets to grow a business in her hometown, and have the flexibility to explore other indiepreneur opportunities that come her way.
This is how she did it.
Chasing Art and
Choosing a Career
Since she was a kid, Chelsea was drawn to art. "I was the little kid that I would get up in the morning and go right out to my drawing table and just color for hours before ever speaking to anyone or eating breakfast," says Chelsea.
But while art was something that was easy to incorporate into her life as a kid, it wasn't so easy to fit into her adult life.
Chelsea struggled with figuring out how she could do creative work that filled her with passion, while also filling her wallet.
"I've bounced around a lot but always in artistic fields," Chelsea says. "Aesthetics and being involved in the arts has been the only constant in my life. It's the only thing I've ever been interested in. It's just surfaced itself in different ways and on different paths."
On those paths, Chelsea provided special effects makeup for a local theater, pursued creative writing, and tried out oil painting all before she attended Stetson University where she got a degree in fine arts and art history.
Then after graduation, she had to decide. What now?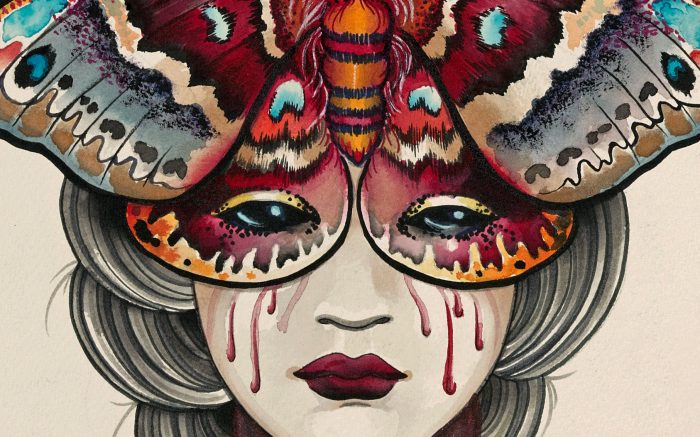 A few professors encouraged her to pursue her art and go be a starving artist for awhile, and she considered it.  
She thought about moving to New York or Glassgow or going to grad school at the Rhode Island School of Design or even going back to school to be an esthetician. She was torn in many directions so she decided to move back to her hometown in St. Petersburg, Florida to ponder her future and figure it out.
And while she was there, she got her first tattoo.
An Introduction to an
Unknown Industry
Chelsea was relativity late to the tattoo game. Getting her first tattoo at 24, she didn't know much about the industry.
But her first tattoo opened her eyes, and introduced her to a world that would change everything. Chelsea was suddenly presented with a new industry, career opportunity, and path she never saw coming.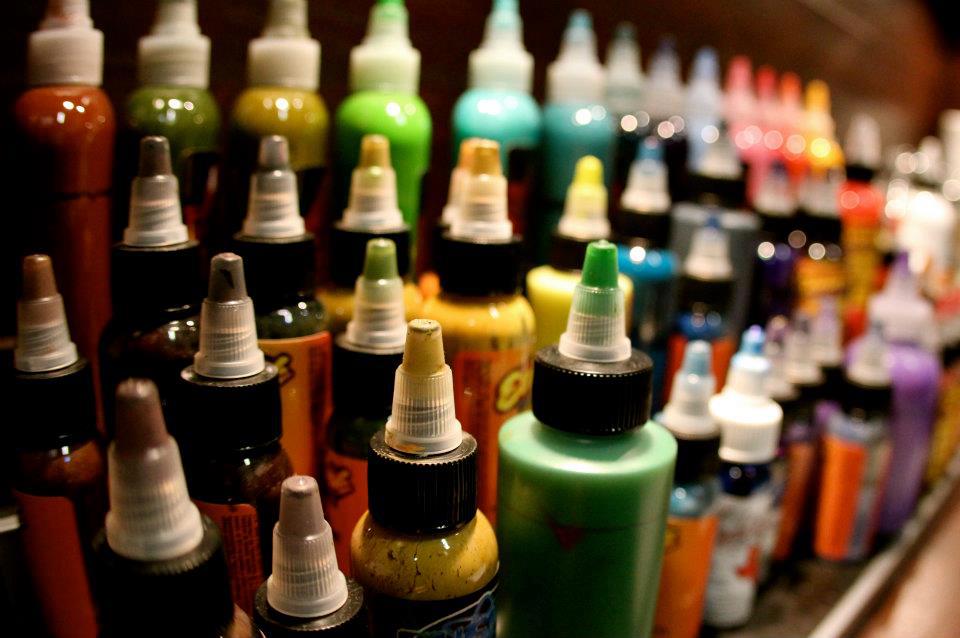 She saw that she could turn her passion for art, aesthetics, design, and beauty into a career as a tattooer.
"I saw someone basically drawing for a living, and having a really good time doing it. And that opened my eyes," she recalls.
Chelsea started getting more tattoos and exploring the industry, found an apprenticeship, and began her career as a professional tattooer.
Making the Tattoo
World Her Own
Chelsea's transition from fine artist to tattooer didn't come easy. Pivoting from a fine art community to the non-traditional world of tattooing was a big adjustment.
And while Chelsea loved the work she was doing, she found that many tattoo shops didn't align with her personal and professional goals.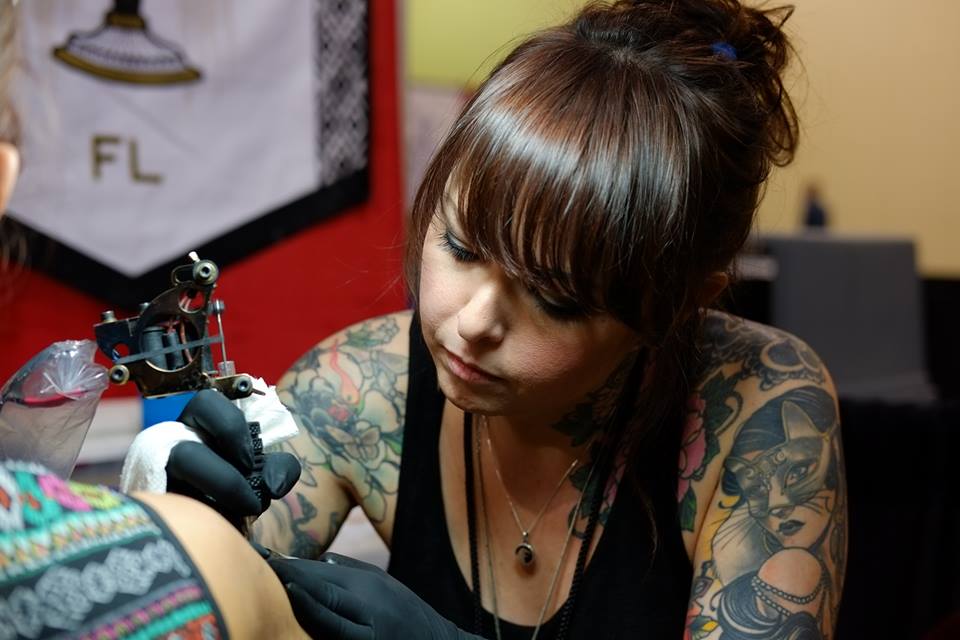 Chelsea wanted to able to bring fine art to tattooing. She wanted to create a place she loved to work and didn't have a boss to report to.
"I was struggling with finding the right place for me to feel creative," Chelsea says.
"I had that independent streak. I didn't want to have a boss. I was like the straight-A student who skipped class all the time and wanted to know why I had to be there if I got good grades. I didn't want to be told what to do," she says.
So instead of trying to fit into a tattoo shop, she built a tattoo shop to fit her and started Amulet Tattoos.
Opening the Doors of
Her Own Studio
With only two years of tattooing experience, Chelsea was still relatively new to the industry when she opened her shop. Looking back, she says she knows she was moving fast — but it felt right so she went for it.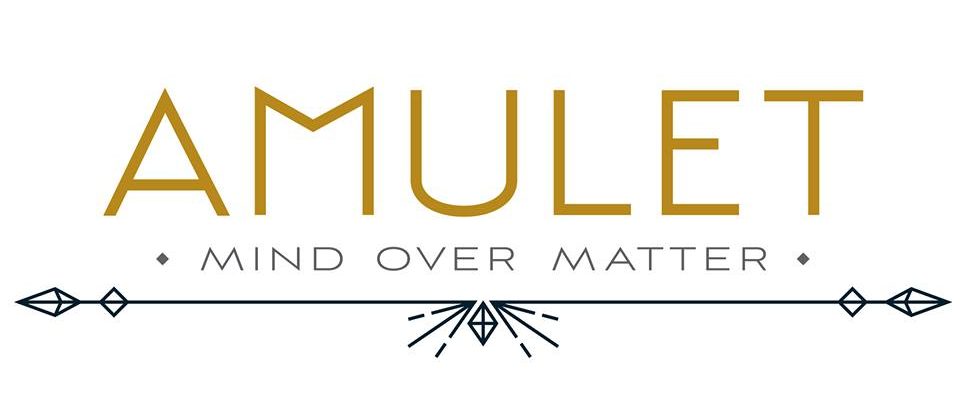 "I wouldn't say that I'm uncautious. But when I get an idea in my head, I tend to leap. Sometime I think you have to do that. Being prone to too much worry or caution or waiting for the right time — I don't know if there is a right time," she says.
Despite the challenges, Chelsea knew it was the right decision for her, and she set out to build a shop that could become a destination. She loved her hometown and wanted to bring attention the arts in the city.
So, she started using social media to promote her business beyond the boundaries of St. Pete.
Using Social Media to Grow Her Business
Chelsea started focusing on building her online presence and sharing her work through social media — particularly Instagram.
"It's afforded me huge opportunities to reach people that I would have otherwise never reached. I have followers from all over the globe that get to see what I do," she says.
"Social media has absolutely been a key factor in how widespread my work can be." 
INDIEPRENEUR SUCCESS TIP
Build a professional digital presence to grow your personal brand. It proves your professionalism and commitment to your career or project.
Building a loyal fan base from around country has lead clients to travel to Chelsea to be tattooed by her. It has also afforded Chelsea with the opportunity to travel herself. She started traveling around the country and guest tattooing at other shops and conventions.
She has clientele around the country and regularly visits certain areas to tattoo.
"All I have to do is put a little post on Instagram that says I'll be in the New York area at this studio these days, and I'll get a bunch of emails from people who want to get tattooed during that time," she explains.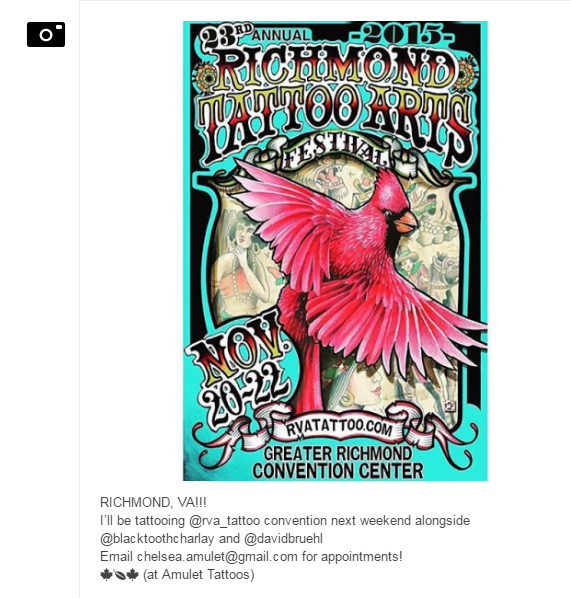 Finding Freedom in Work, Life, and Art
By providing beautiful tattoos infused with true artistic integrity and using digital media as a means to connect with the tattoo community, Chelsea has been able to build a strong reputation and loyal clientele that drives her business.
It's brought her opportunities she never expected, the creative outlet she needed, and the freedom she always wanted.
"What I appreciate most is the freedom that I have cultivated. It's all been kid of a whirlwind, but that's been the most important thing to me — being the boss of my own life," she says. 
And, Chelsea's work isn't done yet. She has other side projects she is starting and knows that she will always be willing to take her passion in new directions.
She shared a quote form a former professor Terri Witek that has always rung true to her, "It isn't art, if it doesn't let you stray."
It seems for Chelsea that is true in both art and life.
Lessons From Chelsea's Success
As I listened to Chelsea tell her story, a few things stuck out as her keys to success.
Don't Wait for the "Right" Time. Chelsea admits that when she started her own shop, she was a little premature. She thought it might not be the right time, but she also knew there might never be the "right" time. Don't sit around waiting for the perfect timing to chase your goals. Go for it and don't look back.
Don't Try and Do Everything Yourself. When Chelsea opened her shop, she put pressure on herself to do everything. But she quickly learned that wasn't good for her or the business. "At the beginning, I was getting down on myself. I thought I had to do everything myself. I had to teach myself that it's okay to ask for help. It's better to employ the people that are specialists at what they do," she says. Don't overwhelm yourself with work you aren't good at. Instead, delegate the tasks that someone can do better.
Do Great Work that Speaks for Itself. Chelsea hasn't had to advertise her shop, because her work is out there advertising for her. "I'm putting my work out there. Every client is walking billboard," she says. "My clients and word-of-mouth do the advertising part." Chelsea holds her work to a high standard not just because it is the right thing to do for the client, but also because it is the right thing to do for her business. Sending out great work into the world is what brings in more clients.
Don't Shelf Your Passion. When she was lost, Chelsea kept her eye on the thing that mattered, her passion for art. And she believes that is one of the reasons why she has found success. "I wouldn't be successful if it wasn't about me and what I'm passionate about. Money isn't enough to make that happen." Listen to the passions that fuel you and follow them where they take you.
Be Adaptable Because Passion May Take You Somewhere Unexpected. As a little girl, Chelsea never thought she'd grow up to be a tattooer. But as she followed her passion, she was open to where it might take her. She allowed it to take her where she needed to be. "Things may look different than you expected but find a way to pivot but keep your overall passions in play," she says. "You have to be willing to shift goals and take a couple of detours. I've tried not to view stuff in a tunnel."
Chelsea loves the indiepreneur life she has created and is always encouraging to others to do the same.
"I just really have always been passionate about being independent, knowing that I'm in control of my own life," she says. "I always say to others — take the plunge and go for it."
The Featured Indiepreneur Series
The Featured Indiepreneur Series is here to remind you that you too can create a more independent career and life by leveraging your knowledge, talents, and a powerful digital presence.
Find out what it takes to launch your Indie Career by downloading this Free Starter Guide that tells you exactly what an Indie Career is, what you need to do to start yours, and how it can change your life.

---
Connect with Chelsea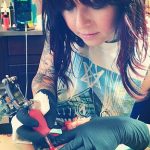 To learn more about Chelsea Rhea and Amulet Tattoo, visit the shop's website AmuletTattoos.com. Check out all of the amazing tattoos Chelsea's creates and where she will be tattooing next by following her on Instagram at @ChelseaRhea and by checking out her Tumbler Page.